Rome Private Tours

With our Rome Private Tours you have the opportunity to visit Rome and its surroundings, in a completely independent way. On the other hand, all our Private Walking Tour Rome are designed to be good for adults; children; families and groups. Our job, in other words, is to respond to all your requests and needs, even the most exclusive.
From the Colosseum to the Circus Maximus; from the Vatican Museum, with the beautiful Sistine Chapel, to St. Peter's Basilica in the Vatican City. And again Ostia Antica; Pompeii; Panoramic Rome Walking Tour by Night; Walking Food Tour Rome. And if, after that, you feel like taking a trip out of town, you certainly can't miss Civita di Bagnoregio.
Surely by choosing us you will not regret it!
Why choose our Rome Private Tours
To clear up, the schedules proposed by our Ancient & Recent Tour Operator are flexible. We meet your needs both in terms of availability and time. You will therefore be able to enjoy a stay in Rome in the best possible way. Whether you are, with your family or in a group, your private guide of Rome will certainly go with you in the eternal city, or in Italy, sharing with you the excited interest and love for this country.
You will have the option to have a personaly itinerary planner, for example:
Colosseum Private Tour Rome;
Palatine Hill;
Roman Forum,
Circus Maximus;
Ostia Antica;
Rome one day trip;
Pompeii;
Panoramic Rome Walking Tour by Night;
Vatican Museum;
Rome Sistine Chapel Private Tour;
Civita di Bagnoregio
and much more in a Private Walking Tour Rome. Customer care and attention are, first of all, our strengths.
Rome Private Tours with Virtual Reality
Ancient & Recent also gives you the option to book a private experience: Virtual Reality. This will allow you to experience the monuments of Rome and beyond, in a new form. Our strength is fun. So, you can learn the story while wearing a latest generation VR headset. In addition, you can choose to customize our historical and technological schedules and full of 3D full of life and energy of reconstruction. Among the Special Tours of Rome you will find for example:
Colosseum
You will get to know the history of Rome, playing the role of a very ancient Roman. Then visit the three large areas of the Colosseum: the external square, with the Temple of Venus and Rome, the Arch of Constantine; the Colossus of Nero and finally the fountain of the gladiators, the Meta Sudans; the Arena, where you can watch a fight between gladiators, of which, becoming emperor, you will have to choose the dstino of the wounded gladiator. Will it be death or grace? Finally, the mysterious and dark undergrounds. A labyrinth of tunnels; prisons; freight elevators and scary animals.
Circus Maximus
You can meet Romulus in the act of crossing the border of Rome; see the first wooden structure of the Circus Maximus and stroll through the Foro Boario, the first market in the city; experience the thrill of seeing the emperor pass a few centimeters away. Finally, try to win the race.
Step into the shoes of a charioteer and go. Run!!! Run and avoid the opponents. Watch out for the curves. Will you be the winner?
Vatican City and Sistine Chapel
Like an ancient Roman you will surely visit the Circus of Nero and the tombs; you will enter the marvelous Constantinian Basilica; you will eventually complete it all on a journey with Michelangelo. Meet him in the Sistine Chapel and follow him reliving the Creation of the World and Michelangelo's Last Judgment with an extraordinary animated story. Watch the painting come to life in front of your eyes. Here is God who separates the dark and the light; the wet from the dry; which creates the plants; Adam and Eve and much more. He takes a Vatican Tour.
Civita di Bagnoregio
For a trip out of town, different from the usual, you will visit the "Dying City"; you will use Smart Glasses in an interactive journey in mixed reality. In fact, through the projection of 3D images, you will be able to interact with 5 different virtual tourist guides that will show you how Civita di Bagnoregio has evolved over time. That is to say, a complete journey through time from a terrestrial, rocky and historical point of view.
In short, ours are all paths that seem ideal for lovers of art, history, entertainment and technology.
Special Gift
The small group tours are so perfect for any occasion. Couples and families and friends. Anyone, in fact, can consequentially choose to book them. Do you want to make a special gift? Whether it's for a birthday; for an anniversary; for a honeymoon or for Valentine's Day, it will certainly be the best way to get to know the most romantic city ever: Rome.
Choose therefore to participate in one of our Rome Private Tours designed only for you. First and most importantly enjoy the city only, worry-free and away from the crowds. Your private guide will offer you a one-of-a-kind Private Tour. In fact, you can book a Rome Sistine Chapel Private Tour; a Vatican Museum Private Tour; a Colosseum Virtual Reality; a Private Ancient Rome Tour and much more. You will have a private guide of Rome who will show you the most beautiful and very interesting places in the city. You will also take unforgettable photos in the most evocative places ever.
In end, the love and attention of your private guide will make sure of that each monument remains imprinted in your mind, this way making your trip to Rome even more exciting.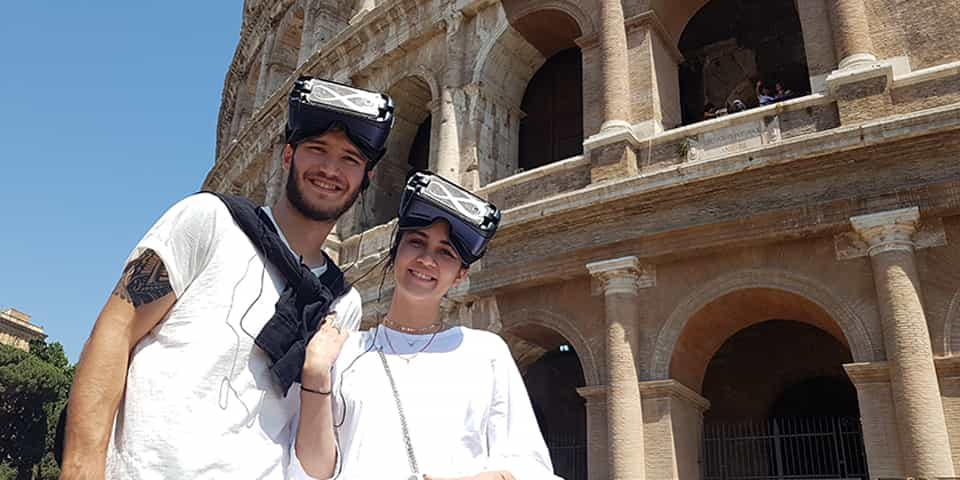 Advantages of our Rome Private Tours
Reserve the advantage of one of our Rome Private Tours and its surroundings, such as:
Staff dedicated to you and your friends;
Special gift at the end of the tour;
Skip-the-line tickets Rome;
Local Private tour guide;
Crowd-free access;
Flexibility of schedules for your every need;
Personaly itinerary planner for your every need;
Latest generation technology;
VIP access based on the chosen itinerary;
Souvenir photo to be received at the end of the experience.
In conclusion, you can choose between numerous possibilities and combinations of Private Tours. Ask for information about the Tours in Rome you prefer. A skip-the-line ticket Rome; the fantastic Colosseum Rome with Virtual Reality; then the Circus Maximus or the Vatican City; or finally a trip out of town to the city of Civita di Bagnoregio and Pompei with Mixed Reality. So, what are you waiting for?