A Day in Rome by Golf Cart

Adults 15+: 49.90€
Child 4-14: 35.90€
Infant 0-3: 0 €
A Day in Rome by Golf Cart
Do you want to discover all the wonders of Rome in one day and want to do it in a comfortable and fun way? Join us for A Day in Rome by Golf Cart! Let our experienced local guide take you through the history and secrets of Rome while you sit comfortably on a state-of-the-art, fully electric and eco-friendly Golf Cart. To break up our day together we will also offer you a delicious lunch of typical Roman dishes right near the city's symbol for excellence, the Colosseum.
Our day will be divided into two parts, morning and afternoon so that you can rest and recharge!
In the morning we will focus on Ancient Rome and Baroque Rome, visiting all those places you've always heard about: the Circus Maximus, where you can imagine enjoying the iconic chariot race; the Giardino degli Aranci from which to admire the eternal city from above; the Forum Boarium and the Bocca della Verità, around which there is a mysterious legend; and more, like Piazza Venezia, where you can admire the Vittoriano and take the typical souvenir photo right in the middle of the square; then Piazza Navona, where you can admire the three magnificent baroque fountains; then the Pantheon, which will take your breath away when it will suddenly appear between the alleys of the city, and the Trevi Fountain, don't forget to throw your coin to make a wish!
At this point we will head to the Colosseum, the majestic arena of gladiators, where you will be told the story of the amphitheater and then you can have lunch with typical dishes of the Roman tradition.
During the second part of the day, we will head to explore the other side of the river to get to know the other fundamental aspect of the city: the one related to the Catholic Church. The view of Castel Sant'Angelo from Ponte Vittorio Emanuele II is unmissable and from there, a stop in St. Peter's Square is definitely a must. You can admire the greatness of St. Peter's Basilica, the colonnade designed by Bernini, all in the heart of the small Catholic state of Vatican City. But the surprises don't stop here! Together we will comfortably go up to the Gianicolo's viewpoint, one of the most beautiful terraces in Rome from which you can admire the city. Going down the panoramic road of Via Garibaldi you can see the beautiful monumental fountain, the Fontana dell'Acqua Paola and enjoy the view until you reach the typical alleys of Trastevere. A stop in Piazza Trilussa, the heart of the city's nightlife and social life, is a must and from there the view of the Tiber Island, a small island on the Tiber River famous for its history and because today it houses a hospital, cannot be missed.
Our expert local guide will take you through all the sights, stories and legends of Rome, as well as giving you insights on the local culture and customs. With our tour A Day in Rome by Golf Cart, you will be able to see all the famous landmarks and hidden gems of the city in a comfortable and fun way.
Don't miss this unique opportunity, book your tour now and get ready for a day filled with history, fun, culture, and unforgettable memories.
Site Visited
Circus Maximus
Palatine (from the outside)
Garden of the Oranges
Bocca della Verità and Foro Boario (from the outside)
Theater of Marcellus
Piazza Venezia
Navona Square
Pantheon
Trevi Fountain
Castel Sant'Angelo (from the outside)
Vatican City
St. Peter's Basilica (from the outside)
Belvedere of the Janiculum Hill
Acqua Paola Fountain
Trilussa Square
Tiber Island (from the Lungo Tevere)
Colosseum (from the outside)
Included
Transportation by Golf Cart
Local tour guide (English)
Lunch in a restaurant with typical cuisine
Not included
Souvenirs
Transport to/from hotel*
Pick up and drop off only for private 35 € extra
This tour is not directly purchasable. In order to book it, please, fill the form below. We will contact you in short time.
Important things to know
You must show your purchase voucher to the staff (also in electronic format)
You must arrive at the meeting point 15 minutes before the start of the activity. Clients who will be late cannot participate in the tour and will therefore lose the right to any kind of reimbursement
The tour is available daily, Monday through Sunday
It is not available on January 1, May 1 and December 25
Online reservations can be made up to 24 hours in advance, same day or last minute reservations will have to be made by phone or email. Confirmation of these will be made based on availability
Children under 18 must be accompanied by an adult and bring valid ID
Large and/or bulky luggage is not allowed. Backpacks and bags are allowed
The activity can be conducted with a maximum of 21 people spread over three vehicles
Pick-up service from your downtown hotel is available only in the case of a private tour, for an additional fee of only 35€ and must be requested at the time of booking. Check if your hotel is within our range here.
For help with the meeting point or other emergencies, please contact +39 3313586107
Meet us here
The meeting point established is ARCH OF CONSTANTINE (side Colosseum). Here you will find our staff equipped with a black flag with a gold "Ancient & Recent" logo.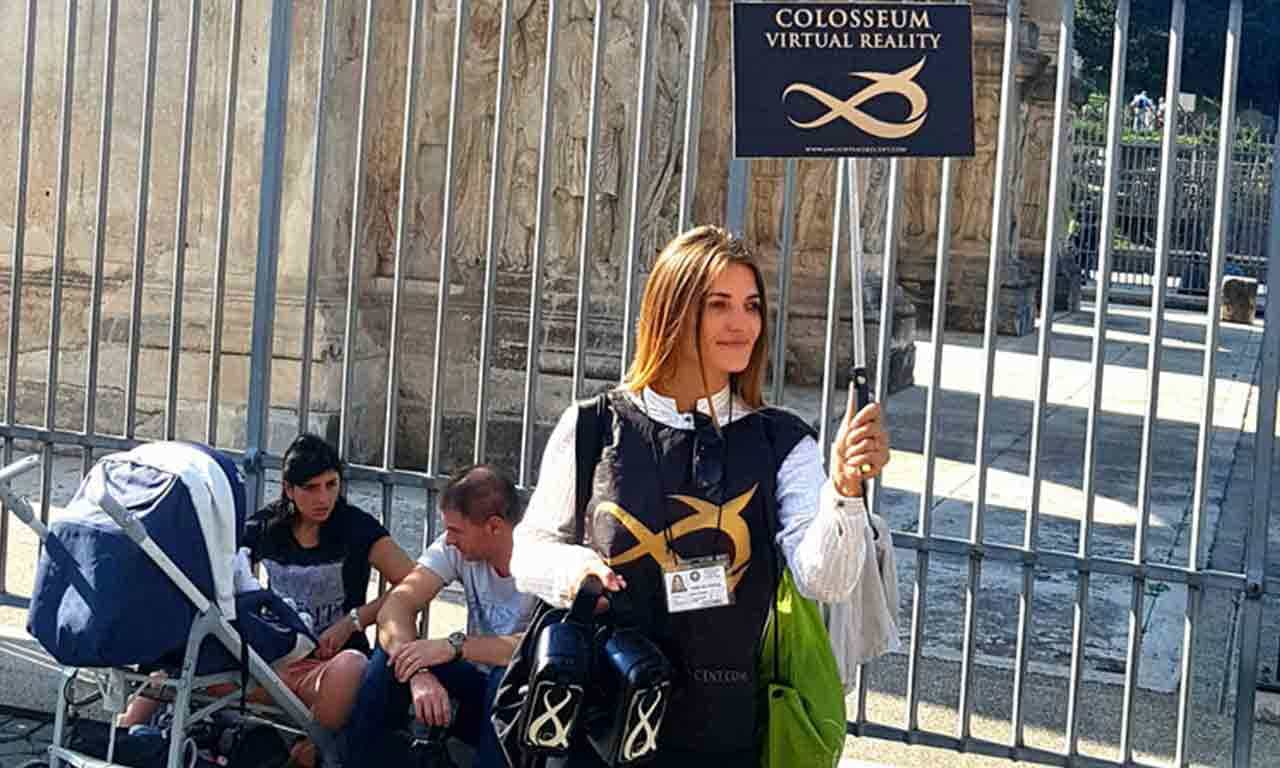 Need to cancel your trip?
If the tour is cancelled at least 7 days before the time of departure, there will be no penalty to pay and you will receive a 100% refund. If cancellation occurs between 6 and 4 days prior to departure, a penalty of 50% of the total price will be charged. For all cancellations that occur within 3 days (72 hours) prior to departure, a penalty equal to the total value (100%) of the experience will be charged. Refunds will only occur if the tour has been paid for and booked through the Ancient&Recent website, within one week of cancellation. Payment will not be refunded for any other reason (weather, change of travel plans, illness, problems with transportation…).
To change the date or time of your experience please email us at info@ancientandrecent.com or call us at +39 3313586107
Reviews (9)
Only logged in customers who have purchased this product may leave a review.
Verified
eccezionale! Eccezionale! realtà virtuale molto divertente ed esplicativa. tour al colosseo con MArta, guida super simpoatica. IL post covid con nessuno dentro ha aiutATO, MA LA REALTà VIRTUALE NE VALE DAVVERO LA pena!

Verified
Un'emozione per grandi e piccoli Esperienza entusiasmante che ha coinvolto e affascinato anche le bambine. Facile individuare la location di ritrovo, personale diponibilissimo, sia via telefono che wa, cortesi e rapidi nelle risposte. Contenuti ben organizzati e ottimamente proposti, della durata giusta per essere chiari e piacevoli. Ricostruzione 3d coinvolgente e interattività semplice anche per i più piccoli. Grazie

Verified
Il Colosseo come non lo avete mai visto Esperienza molto interessante per gli adulti, indispensabile per bambini e ragazzi. Grazie al visore 3D si è trasportati in modo coinvolgente nella Roma imperiale, una visione che aiuta a comprendere la visita successiva al Colosseo. Organizzazione efficiente, personale gentile e preparato. Giudizio critico dei nostri figli: "una figata"! Consigliatissimo

Verified
Great Great the forum and pallintin hill were full of sights.equally as good as the colosseum ... communication was great from company thanks to Cristina . Very happy

Verified
Bellissima esperienza! Ottima l'organizzazione, estrema puntualità e professionalità. L'esperienza è stata molto bella ed interessante. Speriamo vivamente che in futuro organizzino esperienze di questo tipo anche per altri luoghi importanti della Roma antica. Non mancheremo sicuramente! Consigliatissima! Sara e Mariaines

Verified
Un compleanno che resterà nel cuore! Ho fatto una sorpresa a mio figlio nel giorno del suo settimo compleanno: la realtà virtuale lo ha entusiasmato! E la visita all'interno del Colosseo ha completato un'esperienza stupenda. Tutto ben organizzato, puntuali, gentili, disponibili e professionali! Un'esperienza unica, da ripetere. CONSIGLIATISSIMO!!

Alessandra Cerruti
2020-07-22
Verified
Esperienza Nuova e innovatova Da romano e' stato spettacolare e sorprendente vedere com era la vera pizza del colosseo prima e come' ora. Senza contare l ingresso al vero colosseo. Da faee!