Vatican Virtual Reality Experience

Adults 15+: 34.90€
Children 4-14: 24.90€
Infant 0-3: 0 €
Vatican Virtual Reality Experience
Experience the magic of the Vatican by participating in a Vatican Virtual Reality Experience. Learn and have fun with us!
So, meet the staff at the agreed point and join the group. The staff will certainly be happy to welcome you and give you all the information you need to carry out your visit in the best possible way. The Vatican Virtual Reality Experience is, without a doubt, a new way of learning about history. Wear a latest generation VR viewer and witness first-hand the evolution of Rome and St. Peter's Basilica.
Different phases will retrace the past centuries. From Nero's Rome, with its Circus Neronis and Christian persecutions; to the first early Christian basilica built by Constantine in 313 AD. Observe the structure of the Circus Neronis; bear witness to the events that led the emperor Constantine to the construction of the first early Christian basilica; then watch the city change around; enters the basilica; be enchanted by the long stained glass windows; from the majestic altar and the precious marbles.
At the end of the incipit, put on the VR viewer to enter the Sistine Chapel: the doors open wide and your guide appears: Michelangelo. Follow him and go on an extraordinary journey. Enter the heart of the Sistine Chapel painting: Genesis. Watch God as he creates the world; Separation the light from the darkness; finally walk through the Garden of Eden as the plants and animals come to life around you; see how the Creation of Adam and Eve took place with their Expulsion from the Earthly Paradise; and finally enters a new dimension.
Go through the door of the underworld. Meet Charon and Judge Minos; you will see the Angels of the Apocalypse arrive to announce the divine Judgment; behold the bodies of the blessed rise from the earth and fly to heaven. Get in with them too. Hordes of saints surround Jesus, who with his hand raised announces the awaited Last Judgment.
Are you ready?
What are you waiting for!
Sites Visited
Included
Assistent VR in English and Italian
VR headsets
RC insurance
Integrate Audio-guide (Italian, English)
Eye cover mask
Hand sanitizing gel
Not included
Vatican Museum Ticket
Saint Peter's Dome
Saint Peter's Basilica Ticket
Guided Tour
Tour guide
Transport to/from the l'hotel
Tips
Food & Drinks
This tour is not directly purchasable. In order to book it, please, fill the form below. We will contact you in short time.
Important things to know
You must be at the meeting point at least 15 minutes before the tour start time. Customers who arrive late at the meeting point can NO longer participate in the tour, therefore they are not entitled to any kind of right or refund.
Please show the voucher to the staff (also in electronic format)
Tour not available on January 1st, May 1st, December 25th
Online bookings must be made at least 24 hours in advance, last minute bookings are accepted by phone or e-mail.
Under 18s must be accompanied by an adult and bring a valid ID card
Comfortable shoes are recommended
It is forbidden to carry bulky and heavy luggage.
For assistance with meeting points or other urgent problems, call +39 3313586107
In case of rain, all of our tours run regularly
Meeting Point
The meeting point established is VIALE VATICANO. Here you will find our staff with a black flag and gold "Ancient & Recent" logo.
Viale Vaticano, 100, 00192, Rome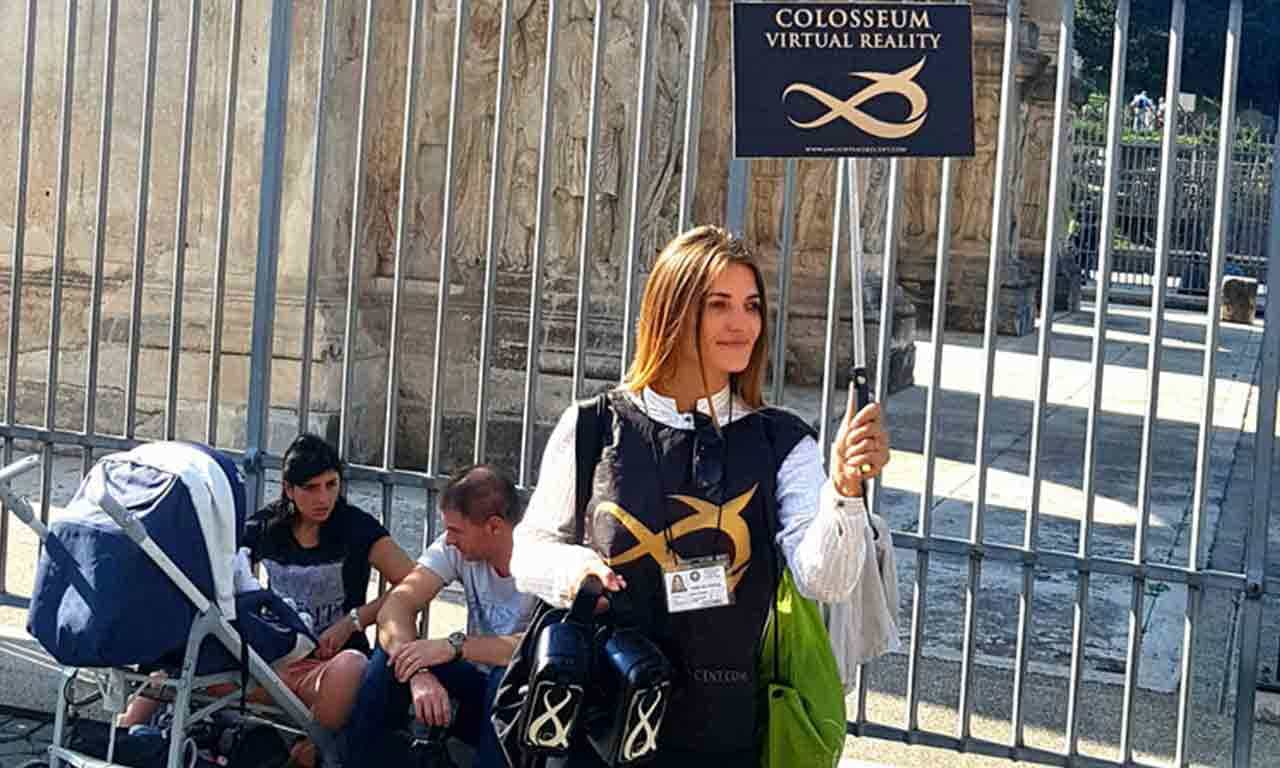 Do you need to cancel your booking?
In case of cancellation of the reservation, a penalty of 30% will be charged. Cancellation between 6 and 4 calendar days before the scheduled departure time, a penalty of 50% will be charged. If you cancel within 3 calendar days (72 hours) of the scheduled departure time, you will be charged a 100% cancellation fee. Refunds will only be issued if the tour was booked and paid for directly with Ancient & Recent within one week of cancellation. The payment will not be refunded for any other reason (eg weather, change of travel plans, illness, missed train …).
Reviews (0)
Only logged in customers who have purchased this product may leave a review.
Verified
eccezionale! Eccezionale! realtà virtuale molto divertente ed esplicativa. tour al colosseo con MArta, guida super simpoatica. IL post covid con nessuno dentro ha aiutATO, MA LA REALTà VIRTUALE NE VALE DAVVERO LA pena!

Verified
Un'emozione per grandi e piccoli Esperienza entusiasmante che ha coinvolto e affascinato anche le bambine. Facile individuare la location di ritrovo, personale diponibilissimo, sia via telefono che wa, cortesi e rapidi nelle risposte. Contenuti ben organizzati e ottimamente proposti, della durata giusta per essere chiari e piacevoli. Ricostruzione 3d coinvolgente e interattività semplice anche per i più piccoli. Grazie

Verified
Il Colosseo come non lo avete mai visto Esperienza molto interessante per gli adulti, indispensabile per bambini e ragazzi. Grazie al visore 3D si è trasportati in modo coinvolgente nella Roma imperiale, una visione che aiuta a comprendere la visita successiva al Colosseo. Organizzazione efficiente, personale gentile e preparato. Giudizio critico dei nostri figli: "una figata"! Consigliatissimo

Verified
Great Great the forum and pallintin hill were full of sights.equally as good as the colosseum ... communication was great from company thanks to Cristina . Very happy

Verified
Bellissima esperienza! Ottima l'organizzazione, estrema puntualità e professionalità. L'esperienza è stata molto bella ed interessante. Speriamo vivamente che in futuro organizzino esperienze di questo tipo anche per altri luoghi importanti della Roma antica. Non mancheremo sicuramente! Consigliatissima! Sara e Mariaines

Verified
Un compleanno che resterà nel cuore! Ho fatto una sorpresa a mio figlio nel giorno del suo settimo compleanno: la realtà virtuale lo ha entusiasmato! E la visita all'interno del Colosseo ha completato un'esperienza stupenda. Tutto ben organizzato, puntuali, gentili, disponibili e professionali! Un'esperienza unica, da ripetere. CONSIGLIATISSIMO!!

Alessandra Cerruti
2020-07-22
Verified
Esperienza Nuova e innovatova Da romano e' stato spettacolare e sorprendente vedere com era la vera pizza del colosseo prima e come' ora. Senza contare l ingresso al vero colosseo. Da faee!