Panoramic Golf Cart Tour in Rome

Adults 15+: 49.90€
Child 4-14: 35.90€
Infant 0-3: 0 €
Panoramic Golf Cart Tour in Rome
Join us to discover the breathtaking views that Rome has to offer. With our Panoramic Golf Cart Tour, you will comfortably reach places that will leave you breathless. Our Golf Carts are comfortable, completely electric and environmentally friendly, discover Rome like you've never seen it before! You will be accompanied by one of our brilliant and experienced local guides who will tell you the history and secrets of Rome.
Our Golf Cart itinerary will take you to see the highlights of Ancient Rome and Baroque Rome, both eras of dramas and greatness for the city. We will start our journey by stopping the at Belvedere of Romolo and Remo, a viewpoint overlooking the Circus Maximus, where you can imagine the chariots races and the celebrations of the winners. We will then easily and comfortably climb the hill to reach the Giardino degli Aranci, a corner of peace in the heart of the city, where the view of the old town if breathtaking.
After a few amazing pictures of the roman skyline, we will descend undisturbed to the Forum Boarium, ancient center of commercial and cultural activities in Rome. We will stop right in front of the Bocca della Verità, a big marble mask surrounded by the mystery of an ancient legend.
Passing by Teatro Marcello, we will head towards Piazza Venezia, the political heart of Rome, and with our Golf Cart we will stop at the best spot to take the iconic souvenir picture with the Vittoriano right behind you. From here it will be easy to wander through the typical city alleys and reach Navona Square, where you will be free to stretch your legs and admire the three magnificent baroque fountains while listening to the story of the rivalry between the artists Bernini e Borromini.
But it's not over yet! The exploration on Golf Cart continues with the possibility to arrive comfortably right in front one of monuments that normally you can only reach on foot: the Pantheon, temple of all past, present and future deities, that will surprise you when it will suddenly appear in front of your eyes right at the end of a small alley.
The first view that will take your breath away will be the greatness of Castel Sant'Angelo, originally a Roman mausoleum then subject to countless modifications that have led it to be as we see it today. This will appear before our eyes as we cross Ponte Vittorio Emanuele II and, in the distance, it will already be possible to see the dome of St. Peter's Basilica. Our second stop will be there, in the heart of the Vatican City, the State of the Catholic Church. You will be able to admire the majesty of the Colonnade designed by Bernini and the magnificent view of the square that can be appreciated by reaching it through Via della Conciliazione.
Then we will comfortably go up to the Gianicolo's viewpont, from this hill you will be able to admire the city like you've never seen it before, in fact, some of the main monuments of the city are easily distinguishable such as the Pantheon, the Synagogue, Villa Borghese, the Vittoriano. We will head down on via Garibaldi, the panoramic road for excellence, we will stop for a brief moment at the Fontana dell'Acqua Paola, better known as the "Fontanone", a large monumental fountain from whose square you can enjoy a wonderful view of Trastevere.
And it is precisely in Trastevere, in the famous Piazza Trilussa where we will stop again. To get there we will pass through the most iconic alleys of the city, in fact, the Trastevere neighborhood is the center of Roman nightlife and the home of some of the most authentic typical restaurants: our local guide will be able to indicate them all!
We will then make a brief stop on Lungo Tevere to admire the Tiber Island, a small island that is located in the middle of the Tiber, famous for its history and because today there is a hospital.
Finally, we will take you in front of the Colosseum, the majestic arena of gladiators and the undisputed symbol of the city, which you will be able to admire in all its greatness.
The Golf Cart tour is undoubtedly a fun and unforgettable experience, especially in a big city like Rome. Come with us and with the Panoramic Golf Cart Tour discover the places that allow you to see it with different eyes from what you are used to, come and discover its breathtaking views and take unforgettable photos, all in a comfortable and dynamic way. Our expert local tour guides will lead you through the millennia of history that shaped the city and they will give you valuable advice on how to make the most of your stay in Rome. They can also point you to places such as restaurants, shops and more so that you can truly immerse yourself in the Roman lifestyle.
So, what are you waiting for? Book with us your unforgettable experience in Golf Cart in Rome!
Site Visited
Castel Sant'Angelo (from the outside)
Vatican City
St. Peter's Basilica (from the outside)
Belvedere of the Janiculum Hill
Acqua Paola Fountain
Trilussa Square
Tiber Island (from the Lungo Tevere)
Colosseum (from the outside)
Included
Transport by Golf Cart
Local tour guide (English)
Not included
Food and Drink
Souvenirs
Transport to/from hotel*
Pick up and drop off only for private 35 € extra
Important things to know
You must show your purchase voucher to the staff (also in electronic format)
You must arrive at the meeting point 15 minutes before the start of the activity. Clients who will be late cannot participate in the tour and will therefore lose the right to any kind of reimbursement
The tour is available daily, Monday through Sunday
It is not available on January 1, May 1 and December 25
Online reservations can be made up to 24 hours in advance, same day or last minute reservations will have to be made by phone or email. Confirmation of these will be made based on availability
Children under 18 must be accompanied by an adult and bring valid ID
Large and/or bulky luggage is not allowed. Backpacks and bags are allowed
The activity can be conducted with a maximum of 21 people spread over three vehicles
Pick-up service from your downtown hotel is available only in the case of a private tour, for an additional fee of only 35€ and must be requested at the time of booking. Check if your hotel is within our range here.
For help with the meeting point or other urgencies, please contact +39 3313586107
Meet us here
The meeting point established is ARCH OF CONSTANTINE (side Colosseum). Here you will find our staff equipped with a black flag with a gold "Ancient & Recent" logo.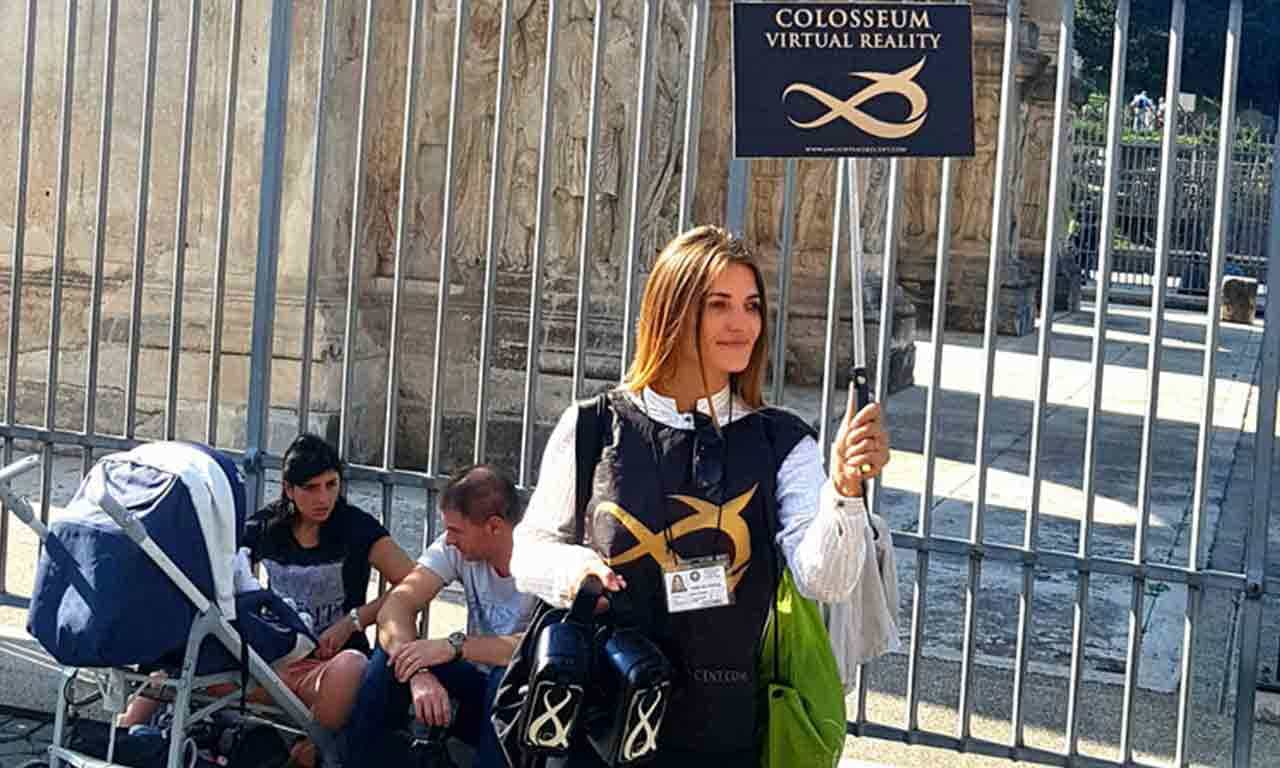 Need to cancel your trip?
If you cancel your reservation you will be charged a 30% cancellation fee. Cancellation between 6 and 4 calendar days in advance of the scheduled departure time, you will be charged a 50% cancellation fee. If you cancel within 3 calendar days (72 hours) of the scheduled departure time, you will becharged a 100% cancellation fee. Refund will only be issued if the tour was booked and paid for directly with Ancient&Recent within a week from the cancellation. The payment will not be refunded for any other reason (i.e. weather, change of travel plans, illness, missed train..).
Reviews (9)
Only logged in customers who have purchased this product may leave a review.
Verified
eccezionale! Eccezionale! realtà virtuale molto divertente ed esplicativa. tour al colosseo con MArta, guida super simpoatica. IL post covid con nessuno dentro ha aiutATO, MA LA REALTà VIRTUALE NE VALE DAVVERO LA pena!

Verified
Un'emozione per grandi e piccoli Esperienza entusiasmante che ha coinvolto e affascinato anche le bambine. Facile individuare la location di ritrovo, personale diponibilissimo, sia via telefono che wa, cortesi e rapidi nelle risposte. Contenuti ben organizzati e ottimamente proposti, della durata giusta per essere chiari e piacevoli. Ricostruzione 3d coinvolgente e interattività semplice anche per i più piccoli. Grazie

Verified
Il Colosseo come non lo avete mai visto Esperienza molto interessante per gli adulti, indispensabile per bambini e ragazzi. Grazie al visore 3D si è trasportati in modo coinvolgente nella Roma imperiale, una visione che aiuta a comprendere la visita successiva al Colosseo. Organizzazione efficiente, personale gentile e preparato. Giudizio critico dei nostri figli: "una figata"! Consigliatissimo

Verified
Great Great the forum and pallintin hill were full of sights.equally as good as the colosseum ... communication was great from company thanks to Cristina . Very happy

Verified
Bellissima esperienza! Ottima l'organizzazione, estrema puntualità e professionalità. L'esperienza è stata molto bella ed interessante. Speriamo vivamente che in futuro organizzino esperienze di questo tipo anche per altri luoghi importanti della Roma antica. Non mancheremo sicuramente! Consigliatissima! Sara e Mariaines

Verified
Un compleanno che resterà nel cuore! Ho fatto una sorpresa a mio figlio nel giorno del suo settimo compleanno: la realtà virtuale lo ha entusiasmato! E la visita all'interno del Colosseo ha completato un'esperienza stupenda. Tutto ben organizzato, puntuali, gentili, disponibili e professionali! Un'esperienza unica, da ripetere. CONSIGLIATISSIMO!!

Alessandra Cerruti
2020-07-22
Verified
Esperienza Nuova e innovatova Da romano e' stato spettacolare e sorprendente vedere com era la vera pizza del colosseo prima e come' ora. Senza contare l ingresso al vero colosseo. Da faee!